Awards

Outstanding Gamification Agency Award
We are delighted to say that our peers in the gamification industry voted for us to be the "Outstanding Gamification Agency" of 2017. The award was presented at the first Gamification Europe conference in Brighton held on 28-29th November 2017.
It is thanks to our team of collaborators, business partners and our clients, that we could make this award happen. As the owner and founder of the business, I have to say I am really grateful for the recognition and to have our years of hard work pay off.
Shortlisted in TIGA Educational Games category
In October 2017, we saw our gamification design for our client Qinetiq xCite, in the shortlist of finalists of the educational game category for the TIGA Game Awards. To be included in the list of finalists was a great honour amongst some great names like Sony and EA. Our project stood out in our category, because it was adult focused education where all the other entries looked more focused on children.
Top Gamification blog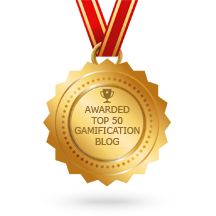 Feedspot judged us to be the number 1 gamification blog worldwide in 2017.
An Coppens is recognised HRD Visionary
At the world HRD Conference in Mumbai in February 2016, An Coppens was recognised as a HRD visionary. With the majority of our work in the training and development space, An was delighted to receive the honours.